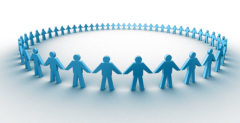 Employee related issues facing the small business employer are just as complicated and demanding as they are for Fortune 500 employers. The difference is the limited resources (time, money, and trained people) the small employer has to address issues like these:
We provide your business with the Human Resources Services that you would not normally be able to afford on a full time basis. We will give you the support you need, when you need it, and at the level of experience it takes to keep you compliant and on track to meet your objectives (both near term and strategic). We become a part of your organization and an asset to you, your management and employees.
If you have 1 to 100 employees, you do not need (and probably can't afford) a full-time HR manager. However, you should have a structured HR function to:
Ensure Compliance
Facilitate Communications
Promote Hiring Consistency
Enhance Performance
Improve Morale
Provide Peace of Mind
Most small businesses place the responsibility for HR administration with the payroll clerk or an administrative assistant, keeping the decision making responsibility, and the headaches, with the Administrator or the Agency Supervisor.
There is a better way! Focus on your Business Development. Outsource your HR functions to N&C Impact Care Solutions and put us to work for you and be assured that you are secured.